What is Menstrual Cup?
A menstrual cup is a reusable silicone cup worn inside the vagina during menstruation used to collect menstrual fluid. Unlike a tampon which absorbs the blood along with the vagina's natural secretions, a menstrual cup simply holds the fluids until you remove it.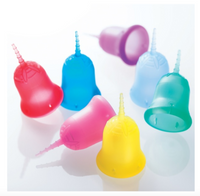 12 Hour Protection
Depending on your menstrual flow, you will need to empty your SckoonCup every 12 hours, or after a full night's sleep. Because SckoonCup can hold two and half to four times more than regular tampons, you'll spend more time worry free!
Shop Sckooncup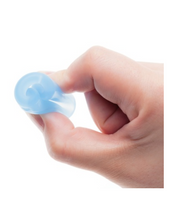 You Won't Feel A Thing!
You may be surprised to know that once SckoonCup is inserted and fully open, it's not much larger than a tampon that has absorbed fluid. Because it's folded inwards, insertion is easy and pain-free. SckoonCup's FDA approved, USA sourced, high-grade silicone is exceptionally soft, making it flexible for easy insertion.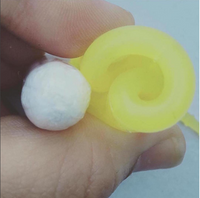 No Leaks, No Smells & No Irritation!
SckoonCup is manufactured with a single-piece precision mould, making it incredibly durable without forming ridges that can cause irritation. The suction holes are a part of the whole unit, ensuring that there's no clogging & no leakage! Because the menstrual flow is not exposed to air, it doesn't have the chance to oxidize and cause odors. You can feel clean and secure at all times!
Shop Sckooncup
Tiny Yet Powerfull!
SckoonCup can hold two and half to four times more flow than regular tampons. SckoonCup size 2 holds one ounce of menstrual flow (30 ml) and Size 1 holds 23 ml. The average woman only flows approximately 1 to 2 ounces (30-60 ml) Per Cycle. SckoonCup will improve your worry-free quality time drastically.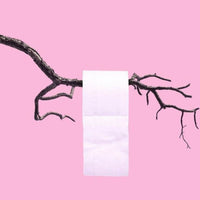 ECO Friendly, Sustainable
The average woman uses approximately 11,000 sanitary napkins in a lifetime. This can cause detrimental affects on our environment as most sanitary napkins end up in landfills.
SckoonCup is made from reusable, Eco friendly, FDA approved, medical grade silicone that can last for years,  reducing your impact on both Mother Earth and on your wallet.
SckoonCup reflects the ideals we are passionate about at Sckoon, both for our customers and the planet. Sustainability and environmental accountability are topics we take seriously, and we know you do too. That's why we've been an organic brand for over 18 years and one of the pioneers of green concepts.
SHOP Sckooncup
Last for years. Save Time and Money
You will use on average 15,000 sanitary napkins in a lifetime, and spend hours buying them. With one click, Just buy one SckoonCup, it will last over 5 years and save you on average $250 per year compared to disposables.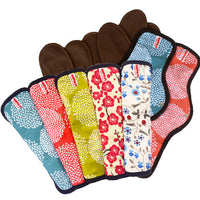 100% Organic Cotton Cloth Menstrual Pads
Made of 100% Certified Egyptian Organic Cotton, these cloth pads are soft and durable. Perfect to use as a back up for SckoonCup, or on its own.
SHOP Sckoon Pads
How to Use SckoonCup
Hold it
First wash your hands and SkoonCup with oil-free frangrance-free Soap. Hold your SckoonCup and ensure that the stem is pointing down. Fold the rim of your cup inwards and down towards the cup's bottom.
Insert
While squatting, insert your SckoonCup in your vaginal canal angling it towards the tailbone. Make sure that the cup is not going past the cervix or sitting right next to it.  Read More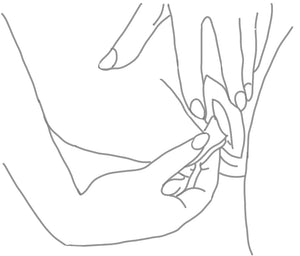 Rotate to Seal
Ensure that the cup is fully popped open by holding the base and rotating it a full 360 degrees in either direction. Read More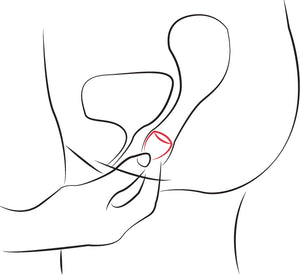 How to remove menstrual cup
Wash your hands and take a squatting position.
All You Need Is A Few Seconds.
Pinch the flower ridged base of Sckooncup with your index finger and thumb. Squeeze the base of the Sckooncup until you begin to feel a release of suction. Wiggle Sckooncup sideways while pulling down. Make sure you aren't pulling from the stem.
Don't Pull The Stem!
Be sure not to pull SckoonCup by the stem, this will cause the contents to spill. The main function of the stem is to guide your fingers to the base of the cup so you can pull the cup out by the flower shaped ridged base of SckoonCup.
SckoonCup unique original design No Poking Stem is soft and flexible that bends with your body.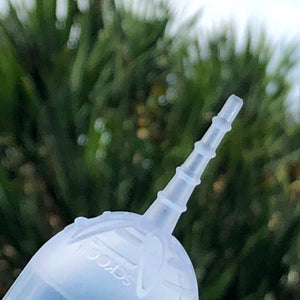 Beginner's Starter Guide
If you're new to menstrual cup you may be wondering where to start. Here at Sckoon, we want to help you be as informed as possible! That's why we've pulled together all the great resources we have throughout our website in to one space. Go To Guide
Perfect Fit For All Your Lifestyles
Only At Night
To sleep soundly all night, insert it in the evening, and get up in the morning to remove it.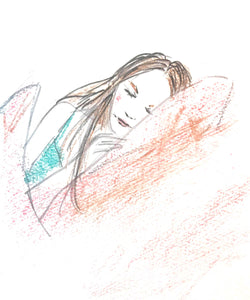 For Active Hours
For active life, on the shore or in the water.
For Heavy Days
For heavy days, SckoonCup will protect you from leakage. It is small but engineered to be high capacity.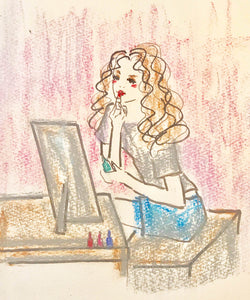 For Every Day Life
All you need is one SckoonCup for both light and heavy days. Save money and save time.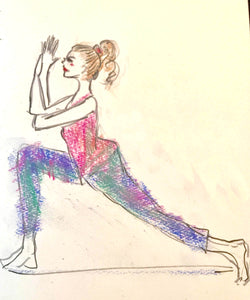 For Going Out
SckoonCup will provide 12 hour protection for those days where you're on the go.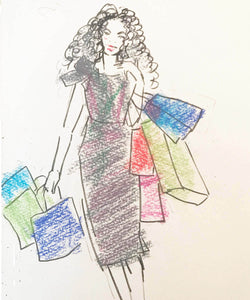 No Time For Bathroom?
Busy women find SckoonCup especially convenient. Enjoy a leakage free period all day long.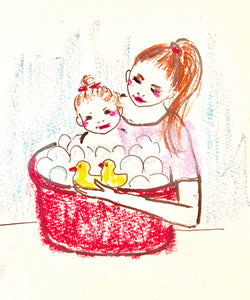 Outstanding Technology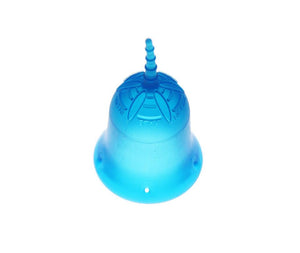 Smoother Outer Curve
SckoonCup's suction holes are moulded into the cup – not added later by piercing the wall vertically. This leaves the cup's outer wall surface completely smooth, without any sharp, uncomfortable edges or problems with clogging. Read More
Shop Sckooncup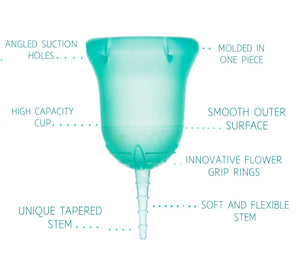 Small, Yet High Capacity
SckoonCup's suction holes are  are designed to angle almost to the rim, allowing SckoonCup a higher capacity even if it feels smaller than other cups.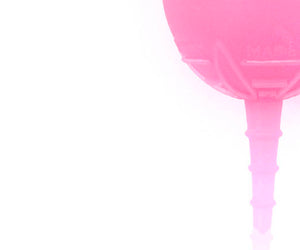 No poking Stem!
Unlike other menstrual cup's stiff stems, SckoonCup's unique original "No Poking Stem" is soft and flexible and bends with your body. 
How to Choose Size ?
SckoonCup size 1 is 1.6 inches in diameter, 1.8 inches in cup length, and the stem is 1.0 inches for a total length of 2.8 inches. SckoonCup size 1 can hold 23ml of fluid. Normal to Medium flow.
SckoonCup size 2 is 1.8 inches in diameter, 2.0 inches in cup length, and the stem is 0.8 inches for a total length of 2.8 inches. SckoonCup size 2 can hold 30ml of fluid. Medium to Heavy Flow.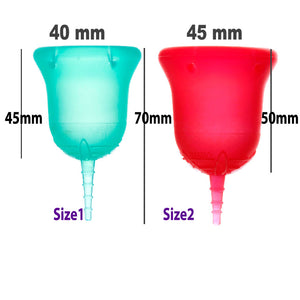 The Safest Menstrual Cup
Trusted by OBGYN
Among numerous menstrual cups, obstetricians and gynecologists recommend USA-made FDA Approved Medical Grade Silicone cups. Also a Cup that has been "Cleared" for sale by the FDA, not just "Registered". Clearance by the FDA is a further assurance that a cup brand is good quality, as it has undergone FDA testing/regulation processes. Few in market menstrual cup brands Cleared FDA  READ MORE
Developed Based on 300 Voices
In developing SckoonCup, we solved the difficulties of existing menstrual cups  based on the voices of 300 monitors. The result is a menstrual cup that is soft and smooth, guards firmly despite its compact size.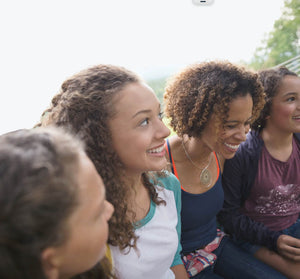 Know Your Body
Another advantage of the menstrual cup is to be able to watch the monthly amount of menstrual flow as well as its condition. It helps early with the detection of disease or abnormalities.